Who Are James Wellbeloved?
Established in rural Somerset in 1992, where the brand is still based to this day, James Wellbeloved was founded on a simple idea: the simpler the better. That's why James Wellbeloved is focused on providing high-quality pet food made from all-natural ingredients that gives your pet all the nutritional goodness they need. All James Wellbeloved products are made without any 'filler' ingredients and go through 6,000 quality checks before they make it to shelves. Plus, their food doesn't include some of the most common allergens in pet food, such as dairy, beef, wheat, and eggs, making it hypoallergenic by nature! For over 30 years, James Wellbeloved has been creating naturally inspired recipes for cats, dogs, and even ferrets, and they don't show any signs of stopping.
What our customers think of James Wellbeloved
Great product, worth the price!!!
Well balanced food and my puppy loves it.
Brilliant, my cats love it, excellent for tooth care and the Vet always compliments my cats on their good dental condition.
My little outdoor cat loves it.
James Wellbeloved Ingredients
James Wellbeloved pet foods pride themselves on their all-natural recipes that help keep your pet healthy inside and out. James Wellbeloved is hypoallergenic by nature by excluding some of the most common allergens in pet food, including:
Dairy
Beef
Pork
Soya
Eggs
Wheat
James Wellbeloved also doesn't use artificial colours, flavours or preservatives in any of their pet food.
James Wellbeloved Feeding Guide
All James Wellbeloved products come with their own feeding guidelines depending on whether you're feeding James Wellbeloved puppy or kitten food, adult food, or senior. Feeding guidelines also differ depending on whether you are feeding wet or dry food to your pet.
All feeding guides are based on your pet's body weight and activity level to help ensure your pet is getting all the nutrition they need. You can see an example of the James Well Beloved feeding guide for James Wellbeloved Adult Dog Food below.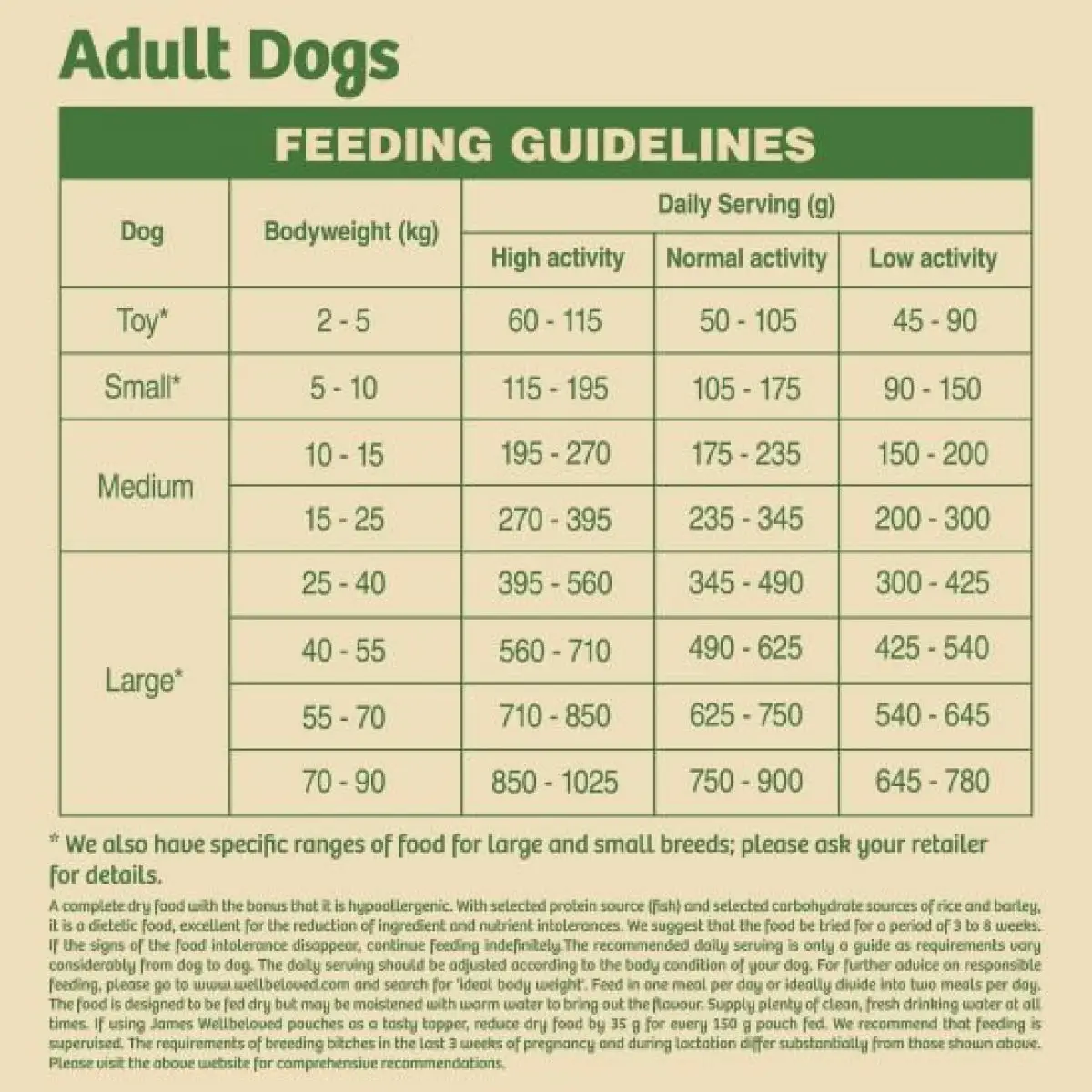 Using the above as an example, you should aim to split your dog's daily allowance into two daily meals, at least 12 hours apart, to help avoid stomach upsets. If you are feeding your dog any James Wellbeloved Treats as well, then the daily allowance should be adjusted accordingly to help avoid overfeeding. Treats should not make up more than 10% of your pet's daily diet.
Whatever pet you are feeding, dog, cat or ferret, and whichever James Wellbeloved food you are providing them, you will easily be able to work out what they need by using the back of the packet. Though remember, these are recommendations only, and your pet will have its own individual needs. For instance, an overweight pet may need less than the recommended amount.
Once opened, dry James Wellbeloved pet food should be kept in an airtight container and used within 3-4 weeks. James Wellbeloved wet pouches should be stored in the fridge and be used within 5-7 days.
Frequently Asked Questions
Is All James Wellbeloved Hypoallergenic?
Yes! All the foods in the James Wellbeloved range are naturally hypoallergenic. James Wellbeloved's foods are made to simple, natural recipes, that do not contain ingredients that are likely to upset your pet's digestive system.
Is James Wellbeloved Grain Free?
Although James Wellbeloved is naturally hypoallergenic, not all James Wellbeloved food is grain-free. Some of their recipes do contain rice, however, this is a highly digestible carbohydrate, meaning these foods are not grain-free. However, the James Wellbeloved range does include grain-free options for dogs and cats, you can find these in our free-from dog food and free from cat food ranges.
Is James Well Beloved Healthy?
James Wellbeloved is a high-quality, protein-rich, natural and healthy diet for your pet. Each recipe is packed full of vitamins and minerals and is highly digestible to help keep your pet healthy and energised.
Is James Wellbeloved Good for Pets with Allergies?
As James Wellbeloved is naturally hypoallergenic, it is great for pets with allergies. None of the ingredients in this pet food is likely to cause an adverse reaction, and each recipe is formulated using a single protein.
Is James Wellbeloved a Complete Food?
All James Wellbeloved recipes, whether dry or wet foods are complete. This means you only have to feed that one food to your pet to ensure they are getting everything they need. However, if your pet prefers it, it is also fine to mix wet and dry foods.